"I too am AMERICA"
café nieuws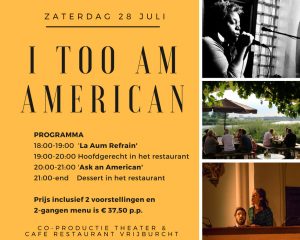 GEANNULEERD!!!
…………………………………………
HET ANDERE GEZICHT VAN DE VS
Dit is absoluut een geweldige avond uit… geniet van twee bijzondere voorstellingen in combinatie met een 2-gangen menu.
We beginnen met een voorstelling van het duo 'La Aum Refrain' in het theater, vervolgens serveren we 'Classic Ribs' waarna je wederom in het theater kijkt naar 'Ask an American' en de avond afsluiten met een 'Apple pie with vanilla sauce'.
Programma:
18:00-19:00 La Aum Refrain
19:00-20:00 Hoofdgerecht in het restaurant
20:00-21:00 Ask an American
21:00-end     Dessert in het restaurant
Prijs inclusief 2 voorstellingen en 2-gangen menu is € 37,50 p.p.
LA AUM REFRAIN
The duo "La Aum Refrain" with soprano Laura Bohn and pianist/drummer Efraim Schulz-Wackerbarth will take listeners on a journey through some of our favorite songs of 20th century America through our own unique blend of classical voice, jazz drums and piano.
ASK AN AMERICAN
Is an unconventional artist talk, experimental music and performance. Ask an American is a new solo work performed by Marya Errin Jones, physical theatre artist, musician and curator based in the High Desert of New Mexico, near the Rio Grande.
If you ever wanted to know what the !@#$ is wrong with Americans, write down your question – using improvisation, divination, automatic writing, storytelling and experimental music, Marya will devise an answer.
Deze co-productie tussen Theater & Café Restaurant Vrijburcht is een mooi en lekker avondvullend programma.
€ 37,50 VOOR THEATER & DINER
Reserveren verplicht via www.cafevrijburcht.nl, (agenda: I TOO AM AMERICA – THEATER & DINER)